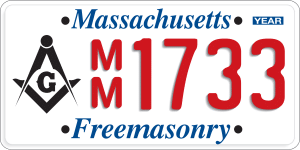 The MM series plate (Freemasonry) is available now at RMV offices across Massachusetts.  The Registry of Motor Vehicles began releasing the plates in late January 2017.  Only the RMV can accept applications for these plates.  They cannot be ordered through Grand Lodge.
For online ordering, go to the official RMV website:
https://secure.rmv.state.ma.us/SpecialPlates/intro.aspx
and scroll through the sample plates until you see the MM series (Freemasonry) plate.
Besides providing awareness, the Masonic License Plates support our statewide Masonic charities, including the Brotherhood Fund.