R.W. Robert C. Corr (1956-2019) – Updated with Memorial Service Information
Right Worshipful Robert Cary Corr passed to the Celestial Lodge above on October 14, 2019. He was 63.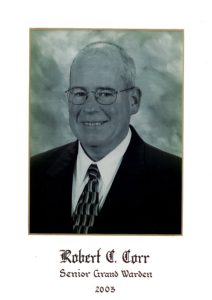 Born in Taunton, MA, Brother Corr was raised on March 26, 1979 in Oriental Lodge, Edgartown, MA (now Oriental-Martha's Vineyard Lodge). He was a Mason for 40 years, 6 months, and 18 days.
He served as Master of Oriental Lodge in 1984-85. Upon completing his term he was immediately installed Secretary; a position he held through 1993.
R.W. Bro. Corr began his service to the Grand Lodge of Massachusetts when Most Worshipful David W. Lovering appointed him District Deputy Grand Master of the Nantucket 31st Masonic District for 1993-1994. In 2003, the voting members of Grand Lodge elected him Senior Grand Warden, the second-highest elected position in the jurisdiction. M.W. Donald G. Hicks Jr, Grand Master, presented Brother Corr with the Henry Price Medal on February 15, 2003. The Henry Price Medal is the highest honor that can be conferred by this Grand Lodge.
An active member of many Masonic bodies, Brother Corr was mostly closely associated with the York Rite of Massachusetts. He served as Most Illustrious Grand Master of the Grand Council of Massachusetts between 2014 and 2016. Since 2008 he was the Grand Secretary of the Grand Royal Arch Chapter of Massachusetts, Grand Recorder of the Grand Council of Massachusetts, and Grand Recorder of the Grand Commandery Knights Templar of Massachusetts & Rhode Island. He held those positions until his passing.
He joined the Scottish Rite Valley of Southeastern Massachusetts on November 11, 1983. He served as the Thrice Potent Master of the Lodge of Perfection from 1993 to 1995, and was Most Wise Master of the Chapter of Rose Croix between 1997 and 199. Brother Corr was conferred a 33° on September 24, 2004 by the Supreme Council, Ancient and Accepted Scottish Rite, Northern Masonic Jurisdiction, USA.
Well done good and faithful servant.
Memorial Service Update
A Memorial Service for R.W. Brother Corr is planned for Saturday, November 16th at 11 am at the Old Whaling Church, Main Street, Edgartown on Martha's Vineyard. A reception will follow at Oriental-Martha's Vineyard Lodge. Organizers recommend those from the mainland take the 9:30 ferry from Wood's Hole. Shuttle buses will meet the boat at Vineyard Haven at 10:15 to provide transportation to the church. The shuttle buses will also return to Vineyard Haven for the ferry back. To help the organizers account for enough buses and food, please email David Maxim at dcmax680@verizon.net, if you are planning to attend.
Ferry Parking Update
Parking is available at the Sands of Time Inn at 549 Woods Hole Road in Woods Hole – about 170 spaces. A brother who owns the facility has made it available. Make sure you arrive by 9:00am to catch the ferry in time.