Bro. Megerdichian Shines in Metal
The Boston Globe has covered the work of Bro. Megerdichian,
so we are reprinting our story on our Brother from Trowel.
---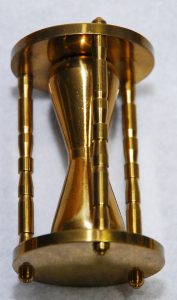 They were presents for birthdays, Christmas, or any occasion in the Abraham Megerdichian household.  And they were tiny.  One was an old style trash can, the type that was inserted in the ground—perfect in every detail.  Another was a horse reined to a carriage.  There was also a pair of salt and pepper shakers.  A certain item was odd: a hockey stick with two pucks attached, or so the family described it.  All of them were metal.
Sometimes silly, sometimes fun, sometimes useful, the miniature metal pieces of  Bro. Megerdichian were always made with love for family, friends, and co-workers.  The family played on a solid aluminum backgammon set; the children saw their mother's sled accurately recreated in a brass miniature.  The small scale metal work of Bro. Megerdichian filled their home with testimonies to his love of them and joy of life.
Bro. Megerdichian was born in 1923 in Franklin, MA to Armenian immigrants from Turkey.  Soon thereafter the family moved to Cambridge.  Upon graduation from Rindge Technical High School, he enlisted in the Navy, served in the Pacific as ship's cook and occasional gunner, returned to Cambridge and got employment as a machinist in a factory.  The machine skills he learned at school and in the military guided him as a machinist throughout his career.
Bro. Megerdichian married and raised three children, all of whom graduated from public schools in Cambridge.  His son and daughter still live in the city.  He took his Masonic degrees in Mount Olivet Lodge, Apprentice and Fellow Craft in 1949 and Master Mason Degree in 1950.  He signed the by-laws of the Lodge in 1950.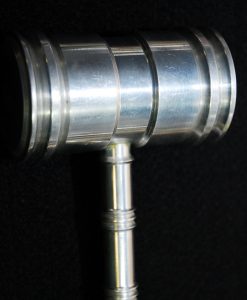 In the 1960's Bro. Megerdichian began making utilitarian, metal objects for use at home – pans, knives, candle holders, and flower vases, and then more complicated, motorized woodworking and metalworking machines for sanding, sawing, and grinding.  As he became a more skilled machinist he began milling from blocks of brass, aluminum, copper and stainless steel easily recognizable and often intricately detailed everyday objects.
Bro. Megerdichian's creative output numbers scores of pieces.  On display at the Attleboro Area Industrial Museum is a ring he milled from stainless steel.  It features the letter J and was made as a gift for his wife Jenny.  Also on display is a violin, complete with case and bow.
Following Abraham's passing in 1983, the Megerdichian family donated many of his machinist's tools to the Bray Mechanical Lab at Tufts University.  His legacy remains for mechanical engineering students at Tufts can use his tools to this day.
Each of Bro. Megerdichian's metal miniatures is an original and one of a kind.  He created a set of toothpicks to be extraordinarily detailed swords.  His backgammon set has ornamental grooves in a sunburst style.
Many of Bro. Megerdichian's pieces allude to Masonry.  As Masons, we can see the symbols of our craft, but none more so than the hockey stick with two pucks attached, affectionately symbolized as a Two-ball-cane.  This he made for himself and drilled a hole in one end for unknown reasons.  Any Mason would recognize it from the one reference to Tubalcain in the Bible, Genesis 4:22.  According to the King James Version, "And Zillah, she also bore Tubalcain, an instructor of every artificer in brass and iron: and the sister of Tubalcain was Naamah."
Bro. Megerdichian's son Robert has said that "the miniatures made by my father are a tribute to the skill of a trained machinist combined with an artist's eye and a generous man's heart."