New Bedford Masonic Walking Tour
On the weekend of June 12 and 13 Brother Brian Fernandes served as tour guide for a Masonic walking tour of downtown New Bedford.  Fernandes, who is the Junior Warden of Star in the East lodge, has been enthralled with his lodge's history since becoming a member in 2015. Luckily for his Brothers he enjoys sharing what he learns and is terrific at it.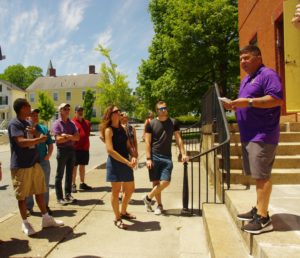 Bro. Fernandez conducting the Masonic Tour of New Bedford.
Over 60 participants spent a part of their weekend on the walk that covered just over a mile in the historic seaport in the 19th Masonic District.  Most were a part of the Masonic family but there was a fair number of the general public that were interested in the history and architecture of New Bedford and how Freemasons helped shape the city.
The lodge's history is getting a lot of renewed attention as it approaches its 200th anniversary in 2023.  Star in the East is the oldest lodge in New Bedford, which currently has three lodges, but it was not its first lodge.  Many learned on the tour that the first lodge in the Whaling City was Washington Remembered lodge chartered in 1803.  However, the War of 1812 and the itinerant and dangerous nature of the whaling industry took its toll on membership.  The lodge eventually turned in its charter in 1814.  But Freemasonry would soon return when Timothy Coffin and 20 other men petitioned the Grand Lodge to form Star in the East.
The tour highlighted Masonic locations such as where Star in East's charter members first met to discuss the formation of the lodge and the places they held meetings over the last two centuries. Some of which still stand despite the fact that Star in the East has been in its current home for over 90 years.  Masonic symbols "hidden" in plain sight and various styles of columns adorning historic buildings were also discussed along the way.  Other points of significance on the tour included the home where Frederick Douglass first lived as a free man and the location where the Dartmouth, a vessel raided during the Boston Tea Party, was built.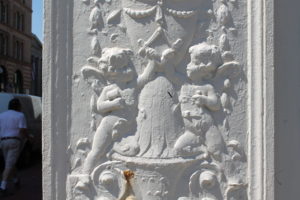 Cherubim holding the Square & Compasses on the Masonic building in New Bedford.
After the tour everyone was invited to enjoy some refreshment at a local business that now occupies the spot where Washington Remembered lodge once stood bringing the tour full circle.
Due to a high level of interest from Brothers who were not able to attend in June this walk is being scheduled again in September.  All are invited to attend.  Look for a flyer on MassMasons.org for more details.
By Bro. Adam Pimentel