Donald M. Moran Hired As Business Manager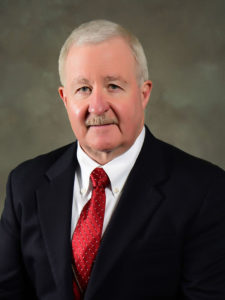 Right Worshipful Donald M. Moran of Georgetown has accepted the position of Business Operations Manager for the Grand Lodge of Masons in Massachusetts.
As the Business Manager, Moran will be responsible for the oversight of the Grand Secretary and Grand Treasurer's offices, and for the management of the activities within the Boston Masonic Building. This includes oversight of the Grand Lodge Supply Room, the Building Department, and the Communications and Development office. Moran was offered the position upon the recommendation of the Board of Directors on Wednesday, May 2nd, 2018 and will start on May 29, 2018.
The current Business Manager, RW Robert Jolly, is retiring at the end of June. In the month of June, Moran will work alongside Jolly. He will officially take over the full responsibility of the office on July 1st.
Moran is a native of the town of Beverly, and a graduate of Beverly High School. He also attended Middlebury College in Middlebury, VT, where he earned his Bachelor's degree.
Moran has worked in the printing business for many years as owner and manager of Colonial Press of Beverly and most recently as the owner of Mike's Printing & Graphics in Georgetown.
As a volunteer, Moran has served as a corporator of the Beverly Hospital, a member of the Beverly YMCA Fundraising Committee, President of the Beverly Rotary Club, and executive committee member on the Georgetown Athletic Association.
He has had the opportunity to develop and grow as a professional and a leader for many years; we asked him a few questions about his approach to his new position:
What excites you about this new opportunity? What drove you to accept this position?
Masonry has been a large part of my life since 1978. The opportunity to work in this environment and have a positive impact on the fraternity is very appealing. I like the fact that there are so many different facets to the job, including working with the various departments and staff here at Grand Lodge as well as assisting with the numerous fraternal issues that arise not only from within Massachusetts but also from other Grand Lodges and appendant organizations. I have always been a problem solver and enjoy the challenge of dealing with a variety of issues simultaneously.
What strengths do you bring based off your previous experience?
I consider myself a good communicator and project manager with over 40 years of experience running a small business. I was able to develop that skill set through my experience with sales and customer service as well as employer/employee relations.  Grand Lodge is a business and our customers are our members. It is important for us to remember that we are here to serve the membership.
 How have your Masonic experiences prepared you for this position?
I was fortunate to participate in the Masonic Leadership Institute several years ago. There were business-based modules in the program that are useful for anyone in a corporate leadership position, including concepts such as team building, conflict resolution and public speaking. My public speaking ability is a direct result of the opportunities I had serving as a line officer and Master of my Lodge and as the Head of a Scottish Rite Body. The contacts that I have made throughout my career as a Grand Lodge officer, and through my Scottish and York Rite associations, extend across Massachusetts, The Scottish Rite's Northern Jurisdiction and even internationally.  This is also an invaluable resource to have in this position.
What is the most important thing you want our membership to know about your vision for the operation of Grand Lodge?
I am very optimistic about the future of our fraternity. There are several programs being implemented by Grand Lodge to aid our local lodges in their membership development and retention. We are working hard to provide more educational experiences for the membership. I also look forward to the opportunity to leverage new assets designed by the Supreme Council of the Northern Masonic Jurisdiction. These include materials in "The Path Forward", a program designed to promote the benefits of the fraternity to prospective members and provide the existing members with additional leadership and educational opportunities.
RW Bro. Jolly has done a fabulous job during his tenure as Business Manager and the Grand Lodge building has undergone numerous upgrades. We have an excellent staff who are deeply committed to the ideals of the fraternity. I think that everyone who has the need to be in contact with this office will find that my management style will be very similar to that of Bro. Jolly's. I expect the transition to be a smooth one and I am looking forward to the challenge of helping keep the Grand Lodge of Massachusetts on a solid footing and the leader in rejuvenating our Masonic fraternity.
Moran is a member of Budleigh Lodge in Beverly. He began his Masonic career in 1978. He served as Worshipful Master of Budleigh Lodge from 1982-1984. He served as the Junior Grand Warden for the Grand Lodge in 2006. He served on the Grand Lodge Board of Directors from June of 2013 until December 2017. Moran is also heavily involved in the Northern Masonic Jurisdiction of the Ancient Accepted Scottish Rite, where he serves as an Active Member of the Supreme Council and Deputy for Massachusetts.