Patriots' Day 2020
A Patriots' Day message from Richard Maggio, the Grand Master.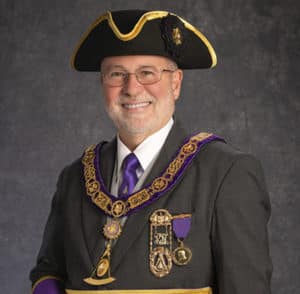 These days, we are living through a period of incredible uncertainty.
I have good news, Brethren – you see, in our country, we thrive on uncertainty.
245 years ago, our ancestors embarked on the most uncertain journey of their lives, as the Revolutionary War began.
They had no way of knowing what lay ahead as the Battles of Lexington and Concord broke out – eight and a half years of brutal, bloody combat.
They did know, however, what lay behind them – a way of life they were no longer satisfied with. They were willing to endure extraordinary circumstances in order to move past it.
We should draw strength from the example of those militia men, the leaders who helped shape our great country. They fought for ideas and freedoms that had not been fully fleshed out, purely in the spirit of wishing to leave their world a better place than they found it.
Today, we do not know exactly what lies ahead for each of us. We do not know how long it will take for our world to defeat its common enemy, COVID-19.
But I do know this, we must follow the example of our forefathers. We must do what is asked of us, band together during this difficult time and help make the world a better place.
By doing so, we will emerge from this crisis fully prepared to continue the work of our great fraternity, and with a greater appreciation of things we previously took for granted. I am certain of it.
May God bless you and your families. Stay healthy and have a great day!
P.S. – I had some more thoughts via video this afternoon.
—
The staggering toll of the coronavirus outbreak is already unprecedented in our lifetime. However long it takes for us to get past the pandemic, the impact on our brethren will be felt much longer. For those who are fortunate enough, please consider making a donation to The Brotherhood Fund.
Your support is welcomed and appreciated. Thank you for your consideration.