R.W. H. Robert Huke, III (1947-2021)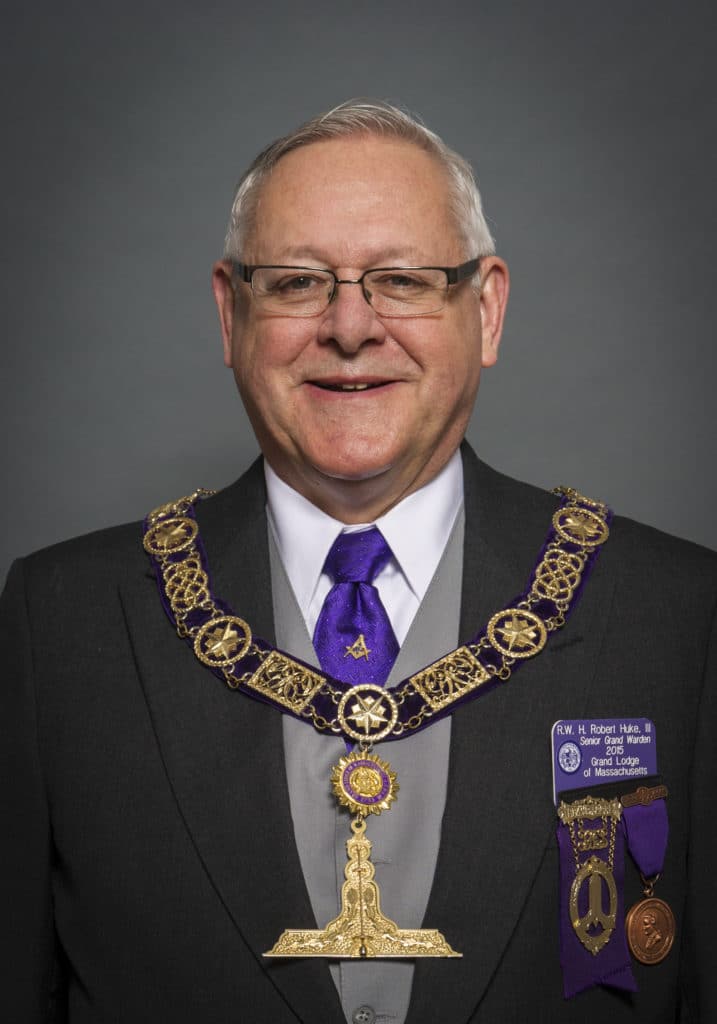 Arrangements are being finalized by the family and will be announced when available.
The roll of the workmen has been called, and unfortunately, another member of the Craft has not answered to his name.
On May 12th, 2021, R.W. H. Robert Huke, III passed away. He was 74 years old.
For those who knew him, it is hard to imagine that a life of dedicated service to the Craft would look any other way.
Bro. Huke began his Masonic career in DeMolay as a member of Old Colony Chapter in 1961. When he reached the age of 21 in 1968, he joined Wollaston Lodge in Quincy – the Lodge that his father belonged to. Later that same year, he joined the Ancient Accepted Scottish Rite's Valley of Boston. From then on, he lived by the square as a dedicated member in both organizations for the better part of the next 53 years.
Robert served as the Worshipful Master of Wollaston Lodge (now Rural Lodge, Quincy) twice (1994-95, 2001-02), and there is little doubt that one of his proudest moments in the East of his Lodge was watching his son Robert continue the family legacy, when he himself joined Wollaston Lodge in 1994.
Those involved at Grand Lodge took notice of Robert's life of service to his Lodge, and offered him the opportunity to serve as a Grand Steward of the Grand Lodge in the year 2000. He was later appointed as the Grand Lodge's representative to the Prince Hall Grand Lodge of Connecticut in 2013.
During all this time, Robert was heavily involved in his Scottish Rite Valley. After formally becoming a degree worker for Boston-Lafayette Lodge of Perfection in 2002, he joined the officer line and served as their Thrice Potent Master (presiding officer) from 2011-14. He was designated a Sovereign Grand Inspector General, 33° in 2013 because of his exemplary service to the Rite.
When his term as presiding officer of the Lodge of Perfection was over, Robert was then offered the opportunity to run for Senior Grand Warden in 2014. He won unanimous statewide election to the position and served honorably from December 29th, 2014 to December 28th, 2015.
As Senior Grand Warden, Robert had a prominent role in one of the most iconic ceremonies the Grand Lodge of Massachusetts has performed in the last century – the Massachusetts State House cornerstone rededication ceremony on June 17th, 2015.
If you knew Robert, then you know this wasn't where his Masonic story would end. He was also a dedicated member of the York Rite bodies of Freemasonry, specifically St. Stephan's Chapter, Temple Council, and St. Bernard Commandery #12, where he served as Commander in 2019-20. He was also a member of the Aleppo Shrine Temple, Taleb Grotto M.O.V.P.E.R., the Massachusetts College of Societas Rosicruciana in Civitabus Foederatis, Order of the Thistle and Kilwinning Club of Boston.
And yet, the life of service to the Craft that Robert led pales in comparison to his service to his country and to his family.
The retired Colonel served in the United States Army for nearly thirty years (1969-1997). He was a lifelong member of the First Baptist Church of Wollaston, where he served as both a trustee and a Sunday school teacher.
He was a graduate of North Quincy High School, who went on to receive his Bachelor of the Arts from Eastern Nazarene College, and later a Master of Science degree from the Florida Institute of Technology.
Robert is survived by his wife Janet, four adult children, and several grandchildren that were the pride and joy of his golden years.
He lived respected, and died regretted.