R.W. Robert F. Doherty (1943-2019)
Right Worshipful Robert F. Doherty passed to the Celestial Lodge above on November 11, 2019. He was 76.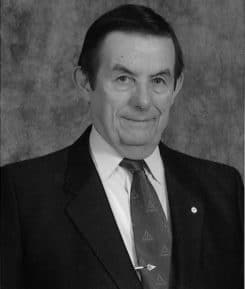 Born in Boston in 1943, he was raised in Somerville and graduated from Somerville High School. He was introduced to Freemasonry as a member of Boston Chapter, Order of DeMolay. Bob earned a bachelor's degree and an MBA from Northeastern University. He served honorably in the United States Army during the Vietnam War.
Brother Doherty was made a Master Mason on June 24, 1974 in Somerville Lodge (now Mount Horeb Lodge, Woburn). He was a Mason for 45 years, four months, and 18 days.
His first Grand Lodge appointment was Grand Pursuivant for R.W. Robert Johnston, Junior Grand Warden, in 1983. In 1987-1988, he served as District Deputy Grand Master of the Arlington 6th Masonic District. In 1989 he began the first of his two tenures as a Grand Lecturer – the role he is probably most well known for. R.W. Brother Doherty held the title of Grand Lecturer until 1996, when he was elected Junior Grand Warden. That year, M.W. Arthur E. Johnson, Grand Master, presented him the Henry Price Medal. The Henry Price Medal is the highest honor this Grand Lodge can confer.
Upon completing his term as Junior Grand Warden, Brother Doherty was immediately re-appointed as a Grand Lecturer; a position he held until his passing. Since 2012, he was the Chairman of the Grand Lecturers.
A member of many Masonic organizations, Brother Doherty was particularly active in Scottish Rite Freemasonry, Valley of Boston. From 2005 to 2008, he was the Thrice Potent Master of the Boston-Lafayette Lodge of Perfection. In 1994 he received the Meritorious Service Award, and in 1999 he was conferred a 33°.
He married Jeannette A. (Malay) Asadoorian on October 19, 1985. Bob worked over 43 years at Baker Commodities Inc. in Billerica as controller before retiring in 2015. He also worked part-time as the Treasurer of the Valley of Boston since 2017.
Calling hours will be held in The Joyce Funeral Home, 245 Main Street (Rte. 20), Waltham on Thursday, November 14th from 4 to 8 p.m. A Masonic Memorial Service for Brother Doherty will take place at 7:00 p.m. His funeral service will be celebrated on Friday in Christ Church, 750 Main Street, Waltham at 10 a.m. Rev. Dr. Kapya Kaoma will officiate. Burial with military honors will follow in Mount Auburn Cemetery, Cambridge.
Memorials in his name may be made to Christ Church, 750 Main Street, Waltham, MA 02451.