State House Cornerstone Lithograph Prints Available!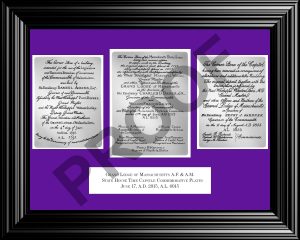 On June 17th, 2015, the Grand Lodge of Masons of Massachusetts had the opportunity to rededicate the Massachusetts State House, and relay the cornerstone of the building. The cornerstone ceremony that was performed was similar in substance, pomp, and circumstance to the 1795 original dedication by our then Grand Master, Paul Revere.
Today, you can own a piece of that history by purchasing a lithograph print (pictured right) that features images of the three Grand Lodge silver plates contained within the walls of the Massachusetts State House. The plates commemorate the original cornerstone laying, the State House expansion, and the rededication from 2015 respectively.
The lithograph prints can be ordered on MassMasons.org, and go for $99 (tax and shipping included) anywhere in the state of Massachusetts. If you are ordering from outside of Massachusetts, contact Barry Johnson in the Supply Department before placing your order so we can get you an accurate price.