WIBM: Bro. Angel Ismael Linares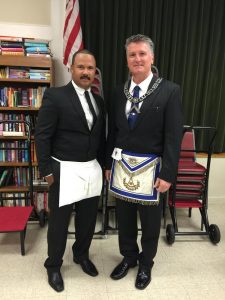 By Bro.  Angel Ismael Linares. Wilder lodge, Leominster, on the left with the Master of Wilder Lodge, Wor. Gary Petit.
After seeing some documentaries on the TV about what Masons are and what they do, it sparked a hunger for knowledge. I decided to do some research and find out what Masons are really like.  I went to my nearest lodge and to ask the Brothers what it is all about. I told them that I was looking for knowledge and people that I can learn from; people who can teach me how to be a better man.
I found the response to all of my questions in one place, Freemasonry.
I know that becoming a Mason was the best thing I could do.