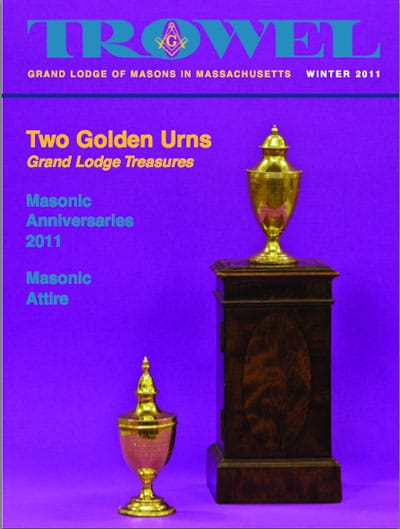 View PDF Issue
Two Golden Urns: Grand Lodge Treasures
Winter 2011
Grand Lodge Treasures – Two Golden Urns: Rt. Wor. C. William Lakso
Be a Mentor: Rt. Wor. David Newcomb
Grand Masters of Massachusetts – MW and Rev. Paul Dean: Rt. Wor. Walter Hunt continues the series.
One Night a Month: Rt. Wor. Steve Cohn
Masonic Attire: Most. Wor. Bro. Barry A. Rickman
2011 Masonic Anniversaries: Brothers raised 60, 65, 70, and 75 years ago.
Preventive Maintenance: Dr. and Bro. Pacifico Tuason
Massachusetts Masonic Youth Organizations: DeMolay and Rainbow need support.