Book Review: "Freemasonry by Questions and Answers" by Illus. Kamel Oussayef 33°
By Bro. Christopher Hodapp
[This review originally appeared on Bro. Christopher Hodapp's blogsite Freemasons for Dummies–Editor of Trowel]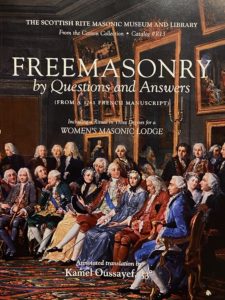 Illus. Kamel Oussayef 33° has been volunteering for almost 20 years at the Scottish Rite (NMJ) Museum & Library working on a series of very special projects. The archives of the Museum contain a priceless collection of handwritten 18th and 19th century French manuscripts that have languished in the vaults for a century or more without ever having been translated into English. His previous books include: Saint Edoüard: A 1748 Masonic Scottish Lodge During the French Enlightenment; The Spirit of Freemasonry; and The Book of Wisdom – all of which have been published in beautiful editions by the Scottish Rite Northern Masonic Jurisdiction.
His new book is the latest in that series. Freemasonry By Questions and Answers is a translation of a 1761 French manuscript made up of a series of notebooks, plus several additional documents up through 1806. If you have any interest in the development of Masonic ritual — both in the Craft lodge and in what became the Scottish Rite — this book is remarkable. French and so-called 'continental' Freemasonry veered off into both major and minor differences from the Preston-Webb rituals we work in the U.S. or the Emulation rituals in Britain. Also, bear in mind that a year after the first notebook in the collection was written down, Etienne (Stephan) Morin carried a patent to the Caribbean and the Americas to establish a Supreme Council of the Rectified Scottish Rite. The degrees in the notebooks reflect the words and rubric of the Rectified Rite at that time. There are also notes concerning English and Scottish rituals demonstrated to the French brethren from visitors across the Channel. There is even a suggested series of toasts for table lodge/festive boards included. If you are a U.S. jurisdiction that uses a particular odd-sounding "table lodge" format that includes the line "To erect Temples to Virtue, and to dig dungeons for vices," that wording doesn't exist in Preston-Webb. It originally came from French ritual in this formative period.
Many of the early French Masonic lodges were extensions of salons of the period, where influential and learned men and women would gather to discuss philosophy, the arts, social and political issues and other topics of the day. Consequently, a special treasure in this manuscript is the inclusion of the Q/A lectures from a French female "lodge of adoption." That term comes from the male lodges that would sponsor or "adopt" a lodge for women, with substantially different rituals and wording. And as a final bonus item, a letter is included from 1806 that explains how and why Napoleon Bonaparte became "protector of Freemasonry" without ever actually joining himself, why he encouraged his sister Caroline, his brothers, and his military officers to become Masons, and how he encouraged his wife, the Empress Josephine, to become Venerable Maîtresse of a female Masonic lodge that attracted influential women to join with her. In addition to the translations, the entire manuscript is heavily annotated to provide insights about the Masons involved, noteworthy historical contexts, ritualistic variations, and more.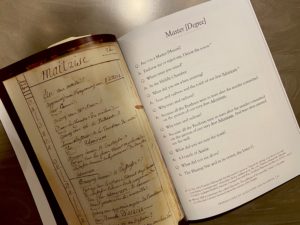 Like his other books, Freemasonry By Questions and Answers is presented in a photographic facsimile manner, with a color photo of each manuscript page on the left side, and the English translation on the right.
Studying the changes in Masonic ritual from one country to another in the first century of grand lodge speculative Masonry is fascinating. It should be noted that French writing in the 18th century is not the same French you might have taken classes in or what you find in "French phrases for tourists" guidebooks. It's more complex, and occasionally obscure. Having these French Masonic records and notebooks translated into English opens them up to wider study by more scholars.
By the way, Kamel's books make excellent companions to a rare, out of print work published back in 1971 by Quatuor Coronati Lodge of Research No. 2076 in London. Track down The Early French Exposures, edited by the legendary Masonic author, Harry Carr.
In 2020, Illus. Kamel Oussayef 33° became the 110th author to be admitted into the Society of Blue Friars, a very special group of Masonic writers. Friar Oussayef was born in Sétif, Algeria and attended school in France, where he lived for many years. He holds an MA from the Fletcher School of Law and Diplomacy at Tufts University and an MS from the School of Public Communications at Boston University.
Kamel is a Past Master of William Parkman Lodge and Converse Lodge. He has been awarded the prestigious Henry Price and Joseph Warren medals for distinguished service to Freemasonry in Massachusetts. In the AASR, he is an Assistant Master of Ceremonies with the Massachusetts Consistory of the Valley of Boston.
PLEASE NOTE:
At the moment, Freemasonry By Questions and Answers is only available as a Kindle download for $9.99 from Amazon.com. The Scottish Rite NMJ Supreme Council website is in the process of being updated following their change in leadership a couple of months ago. Once the print version of book is added to the NMJ's online Marketplace, be aware that a limited number of the hard copy, paperback are being printed in its first run. It is expected to be in the $50 price range. If that initial printing is popular enough to sell out, an additional print run will be considered. I'll update this post when that comes available. [The hardcover is currently available at the Supreme Council's site of the Scottish Rite NMJ–LHF]