Freemasons Declared Red Cross' Premier Partner of the Decade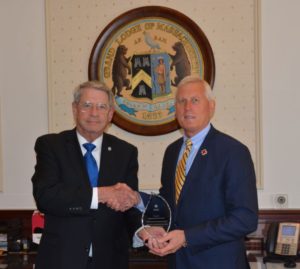 Has your Lodge held a blood drive recently? Several lodges throughout the commonwealth have been dedicated organizers of Red Cross blood drives for many years. The commitment that Freemasons have to holding these events does not go unnoticed.
On May 9th, the Grand Master had the pleasure of meeting with several representatives of the American Red Cross at his office in downtown Boston.
Michael Chaplo, the Vice President of Biomedical Services at the American Red Cross, presented him with an award recognizing the fraternity's commitment to holding blood drives.
The Grand Lodge received "The Premier Partner of the Decade Award" for 2017. Massachusetts Freemasons have held and organized blood drives that are responsible for the collection of 65,604 pints of blood impacting 196,812 lives from 2007-2017. Mr. Chaplo emphasized that this was far from a trivial amount of impact, and that he was extremely proud of the Red Cross' association with the Freemasons.
Joining Mr. Chaplo was Trish Sablitz, the Director of Donor Recruitment; Tammy Ridder, Account Manager; Cathy Alegria, the District Manager of Donor Recruitment for Eastern Massachusetts, and Robert Brown, a member of Garden City Lodge and the Masonic Service committee.
Before the presentation, the Grand Master had the pleasure of discussing opportunities for more work with the Red Cross. After the meeting, the Red Cross group received a tour of the Boston Masonic building.
Freemasons everywhere are known for their commitment to serving their communities, but also to serving others. Often, humble members of the fraternity have a difficult time sharing stories about what kind of impact their work has on the lives of others. Consider this just another great example to share that illustrates the true value of masonic service in the world.