Grand Lodge, Knights Templar Memorials Vandalized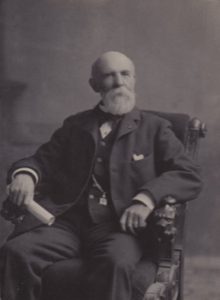 In the news, we have read of the desecration of memorials in Mount Hope cemetery.
The Grand Lodge memorial that was splattered with oil has a long history.  The land and memorial was donated by Bro. John Hoffman Collamore.  He was made a Master Mason in Columbian Lodge of Boston, January 2, 1890.
He was extensively involved in the Fraternity.  According Masonic Genealogy he was "a Royal Arch Mason in St. Andrew's R.A. Chapter, Boston, April 2, 1890; and was created a Knight Templar in Boston Commandery June 18, 1890. The degrees of Royal and Select Master were conferred upon him in Boston Council June 19, 1890. He received the Ineffable Grades in Lafayette Lodge of Perfection, Boston, Feb. 7, 1890; the Ancient Traditional Grades in Giles F. Yates Council, Princes of Jerusalem, Boston, Feb. 14, 1890; the Philosophical and Doctrinal Grades in Mount Olivet Chapter, Rose-Croix, Boston, Feb. 21, 1890, and the Modern Historical and Chivalric Grades in the Massachusetts Consistory, S.P.R.S., April 25, 1890. At the session of the Supreme Council of the 33d and last degree, Northern Masonic Jurisdiction of the United States, held at Providence, R.I., in September, 1892, Bro. Collamore was elected to the honorary grade of Sovereign Grand Inspector General, 33rd degree. He was crowned with this grade at Chicago, Ill., September 19, 1893.
"Bro. Collamore was an honorary member of the following-named Masonic Bodies: Aberdour, Columbian, Germania, Joseph Webb, Massachusetts,Mount Lebanon, Revere, St. John's and Winslow Lewis Lodges, of Boston; Lafayette and Washington Lodges, of Roxbury; Aurora and Charles W. Moore Lodges, of Fitchburg; Eliot Lodge, of Jamaica Plain; King David Lodge, of Taunton; Satuit Lodge, of Scituate and Winthrop Lodge, of Winthrop, all in Massachusetts; and Mt. Lebanon Lodge, of Laconia, N.H. Cambridge Royal Arch Chapter, of Cambridge, Dorchester, of Dorchester, Mount Vernon, of Roxbury, St. Paul's, of Boston and Thomas Royal Arch Chapter, of Fitchburg, Mass. Boston and De Molay Commanderies, K.T., of Boston, Bay State Commandery, of Brockton, Hugh de Payens, of Melrose, Cambridge, of Cambridge, Jerusalem, of Fitchburg, Joseph Warren, of Roxbury, Olivet, of Lynn, St. Omer, of South Boston, South Shore, of East Weymouth, and William Parkman, of East Boston, all in Massachusetts, and Pilgrim Commandery, of Laconia, N.H. Roxbury Council of Royal and Select Masters, of Roxbury, Lafayette Lodge of Perfection, A.A.S.R., of Boston, Giles F. Yates Council of Princes of Jerusalem, A.A.S.R., of Boston, and Merrimack Valley Lodge of Perfection, A.A.S.R., of Haverhill, all in Massachusetts. He was also a life member of the Widows and Orphans Masonic Home Association in Louisville, Ky., and a member of the Masonic Home Association of Springfield, OH."
On May 10, 1894, he made the gift of the land and monument to Grand Lodge: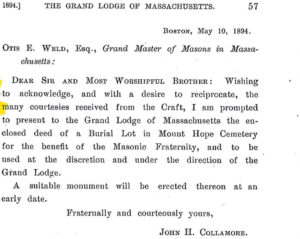 His kindness will outlast the oil that besmirched his gift to the Craft.