License Plate Reimbursement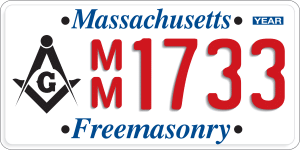 Since hitting the roads this February, we've seen many proud Masons driving around our cities and towns with their Masonic license plates. If you applied before our internal deadline last year, then we covered your application fee.
If you applied for a plate after they hit the road, Grand Lodge will be reimbursing the $40 difference between a regular registration and the specialty plate registration for a limited time only.
To receive your reimbursement, please make a copy of your vehicle registration (which has a summary of charges on it) and either mail it to Grand Lodge or email it to Craig MacPherson in the Grand Treasurer's office.
If you did not apply before the plates were made publicly available, you can still get yours today!
If you want one, you can apply for a specialty plate through the Registry of Motor Vehicles website or visit a local branch to apply.