Masonic License Plates Hit The Road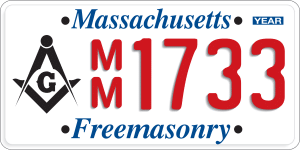 Last week, we began to notice brethren sporting their newly minted Masonic license plates as they jetted around town. To those of you who signed up to be a part of this program, thank you! We could not have done this without you.
For those of you who are still waiting to get the plates you signed up for:
The Registry of Motor Vehicles is mailing everyone who signed up a letter with instructions that looks like this.

Do not go to pick up your plates until you receive your letter.
For those of you who haven't yet signed up for a plate:
You can still get one! You need to, however, apply at your local Registry of Motor Vehicles or through their website to receive one.

Scroll through the special plate options online until you see the MM series Freemasonry plate.

For a limited time, Grand Lodge will reimburse new Masonic applicants for the $40 special plate fee. Sign up today! Keep an eye out for the reimbursement form we will put out for you to use.
Revenue generated by the Masonic license plates will help support the Masonic Education & Charity Trust, a 501(c)3 that is the steward of the Grand Lodge's charitable funds. For more information on the trust, 
click here.