One Day Class: Lewis Jewel Initiative
Is your son eligible to become a Freemason? If so, sponsor him for next year's One Day Class. After he has been raised to the sublime degree of Master Mason you can present him a complimentary Lewis Jewel!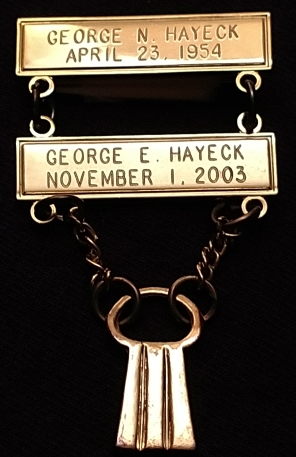 The One Day Class will quickly be upon us – March 9, 2019 is the big day. All brethren joining our remarkable worldwide fraternity that day who are the sons of a Master Mason in good standing will receive a Lewis Jewel, compliments of the Grand Master!
What is a Lewis Jewel? It is a pocket jewel, only to be worn by the son of a Master Mason, to honor his father who was a Mason before him. It is a special honor signifying the Masonic progression within a family.
Each father who sponsors one of our newest Master Masons will receive a One Day Class pin with a special attachment designating you as a Lewis Jewel sponsor!
Need more information about the One Day Class? Check out the One Day Class FAQs for additional details.