Pokémon Go Comes to the Boston Masonic Building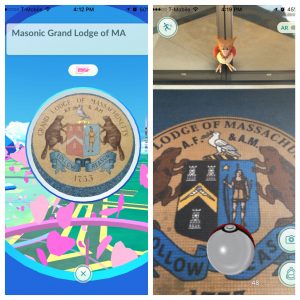 When we look back at 2016, it may well be remembered as the year of the Pokémon Go craze.
Since its launch in early July, news about the location-based augmented reality mobile game has been hard to miss: from the amazing (the fastest game to rank first on the Apple iOS App Store and Google Play store), to the bizarre (at least three dead bodies, including one in Nashua, NH, have been found by Pokémon Go players), and to the scary (criminals luring players into a trap to rob them).
If you spot someone holding their mobile phone up in front of themselves as if taking a picture, it is possible they are playing the game. If you see several people in the same location holding their phones up, there's a good chance they are playing.
And if you visit the Boston Masonic Building and see this happening, would you be right to assume they might be playing Pokémon Go?
Turns out, you would.
The Boston Masonic Building is a location for several "pocket monsters," as well as a Pokéstop.
Pokémon Go is played by downloading an app to an iPhone or Android phone. The app uses the player's GPS location and integrates it with Google Maps to place pocket monsters, or Pokémon. If a player encounters a Pokémon, their device's camera will display the Pokémon's image as if it were in the real world. The player may try to capture the Pokémon by throwing a Poké Ball at it on the screen. Pokéstops and Pokémon gyms where players can battle one another complete the augmented reality of the game.
Players visiting the Boston Masonic Building can try to capture Pokémon, such as Gastly or Spearow. As a Pokéstop, nearby players will see an icon light up and display an image of the Grand Lodge seal from the mosaic panel on the front of the building. At a Pokéstop players can collect items such as eggs, Poké Balls, and potions. It may also be equipped with a lure, which attract wild Pokémon.
People have many different reasons to visit the Boston Masonic Building. For members of the Craft, it is a place to find fellowship at Lodge. For others, it is an opportunity to tour a historic building with magnificent architecture and a museum-like quality. And now, because of Pokémon Go, the ancient mysteries of Freemasonry are linked to a 21st century mobile phone game that incorporates GPS, Google Maps, and the modern mysteries of augmented reality that has taken the digital world by storm.
To Pokémon Go players, we say, "Come for the Pokémon, stay for the Enlightenment." As always, stay aware of your surroundings and follow reason.