R.W. Donald P. Garrido, Past District Grand Master, 1927-2021
The author gratefully acknowledges the personal contribution of R. W. Ronald Lavallee, Past District Grand Master, who preceded R. W. Brother Garrido as District Grand Master.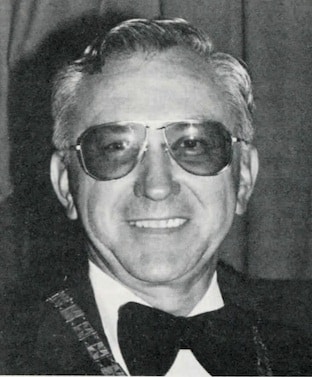 For a century, our Panama District has gained from the contributions of men from many parts of the United States, who have come to the Isthmus to work and to serve. Our late Brother, R. W. Brother Donald P. Garrido, was one of those men, and today we honor his memory.
Brother Garrido was born in New Orleans in October 1927, and became a sailor at age 15, serving in the Merchant Marine during World War II and the United States Navy during Korean War, and was the recipient of various service medals, including the Meritorious Civilian Service Award. He retired with the rank of Captain. He came to Masonic light in New Jersey, receiving the Blue Lodge Degrees at Zeredatha Lodge #131 in Jersey City in 1952; but in 1962 a job opportunity in Panama presented itself, and he relocated there, where he would spend most of his Masonic career.
Our Brother served as a pilot, aiding vessel transits through the Panama Canal, and was elevated to the office of Chief Pilot, a position created specifically for him; he would serve in this capacity until his retirement in 1994. In 1970 he married Lydia Wing, and he and his wife raised their children in Panama; for more than a quarter-century he was involved in every aspect of Masonry in our district – and according to contemporary accounts, it – after family and profession – was the center of his life.
He affiliated with Sojourners' Lodge in 1965 and served as its Worshipful Master in 1975. He was active in the Scottish Rite, and was made a 33° Mason in 1983; he joined all of the York Rite bodies, serving as presiding officer in each, and was elected Grand High Priest of the Grand Chapter of Panama; he received the Royal Arch Distinguished Service Medal, and was decorated with the Joseph Warren Medal in 1984. He also served as Potentate of the Abou Saad Temple, A. A. O. N. M. S., and was extremely active in both Rainbow and DeMolay.
His predecessor in office, R. W. Brother Lavallee, described him as "gung-ho" and always active, devoted to Masonry, outgoing and friendly, caring and always engaged in the service of his fellow man. In the 1970s and 1980s, those active in the Craft in our Panama District were involved in many organizations – blue lodges, York Rite and Scottish Rite, the Shrine, and the District Grand Lodge; and according to Brother Lavallee, whenever something was happening, Brother Garrido was always "Johnny on the Spot" – supportive and a valued participant. This clearly applied to public life as well: he held the rank of Commander in the Order of Manuel Amador Guerrero, awarded by the President of the Republic of Panama, and was a recipient of the Honor Public Service Award from the Panama Canal Commission.
Brother Garrido retired from Panama to Texas in 1994, but continued to be involved in the Fraternity, serving as Master of Cibolo Lodge #151 in San Antonio, and as Chairman of the Crippled and Burned Children's Committee for Central and South America, which provided services for hundreds of children to receive prosthetics and burn treatment in Texas.
We lost our Brother only recently and far from Panama and far from Massachusetts as well. His life of service is a worthy example for us to follow, and for those whose lives he touched, it will be long remembered and cherished.
-R.W. Walter H. Hunt, Grand Historian