R.W. Robert L. Steadman, 1926-2016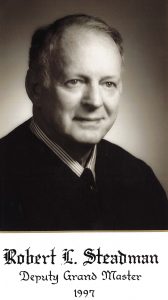 The roll of the workmen has been called and one Master Mason has not answered to his name.
R.W. Robert L. Steadman (Weymouth United Masonic Lodge, Weymouth) passed to the Celestial Lodge on Tuesday, June 14, 2016. He was 90.
M.W. Arthur E. Johnson, Past Grand Master, 1996-1998, appointed Brother Steadman Deputy Grand Master for the Grand Lodge of Massachusetts in 1997. In 1996 he was also elected Deputy for Massachusetts by the Northern Masonic Jurisdiction of the Scottish Rite.
Brother Steadman was retired Chief Justice of the Massachusetts Superior Court, 1988-1996. A native of Cambridge, he graduated that city's Rindge High School. He attended Suffolk University as an undergraduate and received his J.D. from the Law School in 1951.  He received an honorary doctorate of laws in 1992. A noted trial lawyer, he was a partner in the law firm of Steadman, Williams and Jackson from 1952 until his appointment to the bench of the Massachusetts Superior Court in 1979.
Raised in Orphan's Hope Lodge, Weymouth, Brother Steadman served as Worshipful Master in 1965-66; he was District Deputy Grand Master of the Quincy 26th in 1977 and 1978. He held York Rite membership with Pentalpha Royal Arch Chapter, Temple Council of Royal and Select Masters, South Shore Commandery No. 31, Knights Templar, all of East Weymouth, and St. Bernard Commandery, No. 12 of Boston and was a member of Aleppo Temple, Shrine. His Scottish Rite affiliations were with the Valley of Boston.
An Honorary Legion of Honor in DeMolay, he held the Joseph Warren Medal and the Henry Price Medal.
Married to Elaine Rosa Nickerson since 1953, they are parents of Robert Lloyd Steadman, Jr. and Angela Mae Steadman. They are members of the Old South Union Church of Weymouth where Brother Steadman served as moderator and trustee. He was also a Sunday School teacher.
Visiting Hours will be held on Thursday, June 23, 2016 at the C.C. Shepherd Funeral Home, 134 Pleasant Street, South Weymouth, MA.  There will be a Masonic Memorial Service at 7:30 p.m. Funeral on Friday, June 24, at 11:00 a.m. at the First Congregational Church, 639 High Street, Hanson, MA.